Breadcrumb Trail Links
NewsLocal News
The Duke of Sussex dropped the puck before the Canucks vs. San Jose Sharks game
Article content
Prince Harry and Meghan Markle attended the Vancouver Canucks game against the San Jose Sharks on Monday night.
The happy-looking Royal couple sat in a VIP box after Harry dropped the puck in the lead-up to the game with San Jose Sharks' Tomas Hertl and Vancouver Canucks captain Quinn Hughes on either side. Others in the VIP box included local Indigenous leaders, B.C. Premier David Eby and Tourism, Arts, Culture and Sports Minister Lana Popham.
Article content
Article content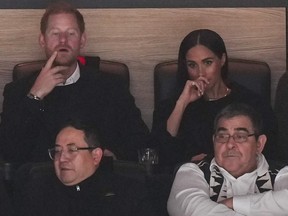 The jumbotron highlighted the Duke of Sussex's Invictus Games that are being held in Whistler and Vancouver from Feb. 8 to Feb. 16 2025.
Harry is the founder and the patron of the Invictus Games Foundation, which runs the international multi-sport event for wounded, injured and sick servicemen and women.
Article content
Article content
The Duke and Duchess of Sussex's visit to Vancouver had not been revealed until the couple appeared at the rink.
On Oct. 6, 2002, Harry's grandmother Queen Elizabeth dropped the puck for a Canucks game also against the Sharks — when Markus Naslund was captain — with Wayne Gretzky by her side.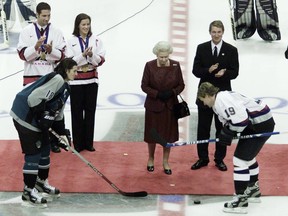 The couple lived in North Saanich on Vancouver Island for three months in 2020 during the COVID-19 pandemic after leaving Britain and the royal life behind.
According to Harry's book Spare, the couple considered settling in B.C. before they moved to Los Angeles where they now reside with their two children.
At one point, the rumour mill had the royal couple eyeing a waterfront home in Kitsilano, but it was just a rumour.
Related Stories

'I've lost a lot': Prince Harry tells Vancouver trauma expert Gabor Mate in streamed interview

'Stormy night': How a Vancouver Island escape led to Harry and Meghan's split with the Royal Family

Meghan Markle, Prince Harry reportedly eyeing Kitsilano mansion
None
— with a file from Canadian Press
dcarrigg@postmedia.com
Article content
Article content
Share this article in your social network
Comments
Postmedia is committed to maintaining a lively but civil forum for discussion and encourage all readers to share their views on our articles. Comments may take up to an hour for moderation before appearing on the site. We ask you to keep your comments relevant and respectful. We have enabled email notifications—you will now receive an email if you receive a reply to your comment, there is an update to a comment thread you follow or if a user you follow comments. Visit our Community Guidelines for more information and details on how to adjust your email settings.