Breadcrumb Trail Links
Montreal Alouettes
"We talked about it all year, it was going to come down to one play," said Tyson Philpot, who caught MVP Cody Fajardo's third TD pass after a seven-play, 83-yard drive with less than two minutes left in the game.
Article content
When history reflects on the Alouettes' 2023 season and how this group somehow came together against incredible odds, the one thing that will be remembered was 'The Drive,' and how an offence that was inconsistent at times came through at the most critical juncture.
The Alouettes are Grey Cup champions because quarterback Cody Fajardo led the team on a seven-play, 83-yard drive with slightly less than two minutes remaining in regulation time, capped by a 19-yard touchdown pass to receiver Tyson Philpot at 14:37.
Article content
Article content
Montreal's come-from-behind 28-24 victory over the favoured Winnipeg Blue Bombers in the CFL championship game Sunday night at Tim Hortons Field in Hamilton was the franchise's eighth title — its first since 2010.
A team that was without an owner until March and saw numerous free agents depart because of the franchise's uncertainty, won its last eight games following a narrow mid-September defeat to Toronto. In the process, the Alouettes beat the best team in the East Division — the Argonauts in last weekend's division final on the road — then stunned the Bombers, first in the West Division with a 14-4 record.
Those were Montreal's only two victories against teams with winning records.
"We talked about it all year, it was going to come down to one play," Philpot, named the game's outstanding Canadian, said during a televised post-game interview from Hamilton. "I found one-on-one coverage. Cody trusted in me and the rest is history."
Philpot beat cornerback Demerio Houston, who had a league-leading seven interceptions this season, on the play. It came immediately after Fajardo connected with Cole Spieker for a 31-yard gain on third-and-five. Philpot, in only his second CFL season, caught three passes on the drive. After getting sacked for an eight-yard loss, Fajardo ran for 13 yards, making the third-down gamble more palatable.
Article content
Article content
Fajardo, thrown to the scrap heap by Saskatchewan late last season when he was benched, won his second Grey Cup, but his first as a starter. Although the 31-year-old never was expected to win the game by himself, he was named the most valuable player after completing 21 of 26 passes for 290 yards and three touchdowns. Fajardo threw one interception.
"It's like a movie," Fajardo said in a televised interview from Hamilton. "It's very emotional for me. The guys on that sideline were the ones who believed in me. When we took the field at the end, I grew up as a little kid wanting the ball in my hand with the game on the line. I'm just thankful for that opportunity.
"Everybody counted us out," he added. "This team was so close together. I've never been closer to a team. We knew we had something special. Last week, we knew, beating a very tough Argos team, we had a chance. I'm so proud. It seems just like a dream. It's truly incredible."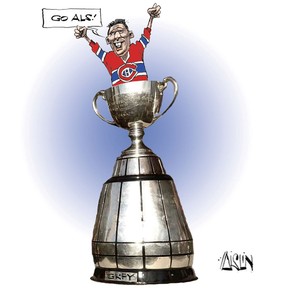 There were numerous occasions on Sunday when the Alouettes appeared destined to lose. Winnipeg scored on its opening two possessions, jumping to a 10-0 lead before the first quarter ended. Montreal tailback William Stanback scored on a 32-yard run at the conclusion of the period and provided the team with some life.
Article content
But at the end of the opening half, and now trailing 17-7, Montreal backup quarterback Caleb Evans twice was stopped from the Winnipeg one-yard line, which could have proved devastating, especially following questionable play-calling by head coach Jason Maas.
Instead, the Alouettes regrouped over the intermission and started the second half impeccably, requiring only three plays to score its second touchdown — a 23-yard pass to Spieker following an incredible one-handed reception by Austin Mack, who could have been named the MVP after catching six passes for 103 yards, including a 13-yard touchdown early in the fourth quarter, providing Montreal with a 21-17 lead.
Montreal's defence, which carried the team down the stretch, came through with numerous big plays again.
Related Stories

'Misfit' Alouettes determined to prove critics wrong at Grey Cup

Here's helpful information if you are jumping on the Alouettes bandwagon

Alouettes GM Danny Maciocia defied odds by building a Grey Cup team
None
None
Rookie cornerback Kabion Ento went high in the end zone to intercept a pass intended for Kenny Lawler in the third quarter. Winnipeg quarterback Zach Collaros was sacked four times, while the Bombers were held to seven points over the second half.
Article content
But when backup Winnipeg quarterback Dakota Prukop scored his second short-yardage touchdown at 9:32 of the fourth quarter, which gave his team a 24-21 advantage, Montreal's mettle was put to the test. And Fajardo and the offence were up for the challenge.
The Alouettes produced a league-low 31 offensive touchdowns this season over 18 games. Incredibly, with a championship on the line, Montreal found the end zone four times against the Bombers, who allowed a league-low 377 points and only 27 offensive touchdowns.
"It means everything," Maas said in a televised interview from Hamilton. "I'm so grateful for this group of guys. This is beyond my imagination of what it could be like or feel like. This is a great team and I'm very happy to be associated with it."
Maas, like Fajardo, had something to prove after being fired as the Roughriders' offensive co-ordinator at the end of last season. A former head coach with Edmonton, this was his first Cup victory as a bench boss.
The Bombers' opening touchdown came on a five-yard run by Canadian tailback Brady Oliveira, who gained 119 yards on 19 carries. While it was Winnipeg's fourth consecutive Cup appearance, it also marked its second straight defeat.
hzurkowsky@postmedia.com
twitter.com/HerbZurkowsky1
Article content
Article content
Share this article in your social network
Comments
Postmedia is committed to maintaining a lively but civil forum for discussion and encourage all readers to share their views on our articles. Comments may take up to an hour for moderation before appearing on the site. We ask you to keep your comments relevant and respectful. We have enabled email notifications—you will now receive an email if you receive a reply to your comment, there is an update to a comment thread you follow or if a user you follow comments. Visit our Community Guidelines for more information and details on how to adjust your email settings.