Ever since the pandemic, the demand for digital payments has grown rapidly. Initially, this was spurred by physical distancing rules, which contributed to the growth of online shopping and cashless payments. Since then, however, consumers and merchants alike have grown used to these new means of transaction.
Southeast Asia, in particular, is leading the way for financial digitisation. As it stands, more than 70 per cent of adults in SEA are currently 'unbanked' or 'underbanked', and digital payments are primed to address the issue of financial inclusion across the region. 
SEA's digital payment market is projected to grow by over 14 per cent annually from 2023 to 2027. In line with this trend, SEA has also become the world's fastest-growing region for mobile wallets.  
The mission for digital finance is being powered by both private institutions and governments. At the Singapore Fintech Festival (SFF) 2023, the Monetary Authority of Singapore (MAS) announced the launch of new cross-border payment systems, allowing seamless transfers between Singapore and Malaysia, and Singapore and Indonesia. 
Instant fund transfer between Singapore and Malaysia
Since 2017, Singaporeans have enjoyed the convenience of instant fund transfer through the PayNow service. This requires only the recipient's phone number and can be used to transfer funds to customers of seven different participating banks. 
As of this November, PayNow users will enjoy the same convenience when transferring funds to Malaysia as well. This has been made possible by linking PayNow with DuitNow – a similar payments system which was launched in Malaysia in 2018. 
This service will be launched in phases to customers of Liquid Group, Maybank Singapore, OCBC, and UOB in Singapore. These institutions will gradually increase the eligible users until the end of January 2024.
In Malaysia, the service will first be available to customers of CIMB, Maybank, and TNG Digital. There are also plans to onboard more financial institutions after this launch period. 
The PayNow-DuitNow linkage is the culmination of a shared aspiration by Singapore and Malaysia to facilitate cross-border payments between the two countries. This linkage represents another step towards ASEAN's vision for regional payments interconnectivity.

– Ravi Menon, Managing Director, MAS
Users will be able to send or receive up to S$1,000 on a daily basis using this real-time payments system.
Besides being neighbours, Singapore and Malaysia are among each other's largest trade partners. As Ghaffour mentioned in his remarks at the launch, Singaporeans used to visit Malaysia twice-a-year on average prior to the pandemic. 
With borders open again and travel picking up, this payments system will play a key role in strengthening ties between the two countries. For individuals and enterprises alike, the barriers for remittance and payments are now lower than they have ever been. 
Cross-border QR payments between Singapore and Indonesia
QR payments have become a popular way for merchants – especially small businesses – to go digital and join the cashless revolution. Unlike card-based systems, they don't require an investment in a point-of-sale terminal (POS), nor do they come with high transaction costs. This convenience extends to consumers too, who can pay using just the banking app on their smartphone. 
At SFF 2023, the MAS and Bank Indonesia (BI) launched cross-border QR payment linkage between Indonesia and Singapore. Going forward, the millions of visitors who travel from Singapore to Indonesia – and vice versa – each year, will be able to make QR payments across borders as well. 
This initiative reduces the need for currency conversion and makes the payment process a lot simpler. For merchants, a larger customer base can now purchase their products and services using existing QRIS and NETS QR codes.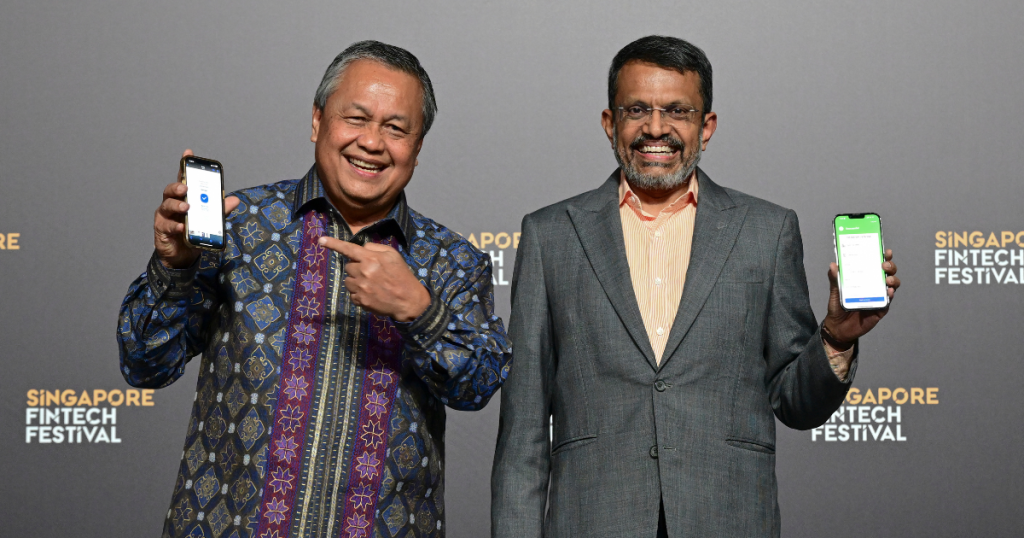 The QRIS-NETS QR payment linkage will promote cross-border e-commerce activities and tourism spending across Singapore and Indonesia, by individuals and small businesses.

– Ravi Menon, Managing Director, MAS
Along with this launch, MAS and BI have also signed a letter of intent to establish a local currency settlement framework, which will come into effect in 2024. "This will complement this payment linkage by facilitating the use of Indonesia Rupiah and Singapore Dollar for the settlement of cross-border payments," says Menon.
As a result, businesses will be able to reduce their exposure to exchange rate fluctuations and risks. 
In his remarks at the launch ceremony, BI Governor Perry Warjiyo stressed the importance of collaboration in improving payment connectivity across SEA. This particular project was implemented successfully through the efforts of not only BI and MAS, but the Indonesian Payment System Association (ASPI), RAJA (Rintis, Artajasa, Jalin, and Alto), Network for Electronic Transfers (NETS) and participating financial institutions.  
"These initiatives mark another milestone for Singapore's growing cross-border payments linkages with key regional economies," Menon concluded.
Featured Image Credit: Singapore Fintech Festival 2023
Also Read: "Cryptocurrencies have failed the test of digital money": MAS' MD Ravi Menon on the future of fintech