Breadcrumb Trail Links
NewsLocal News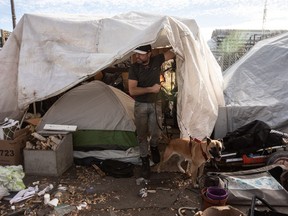 Article content
A human rights group is expressing concern that its court application to pause the City of Edmonton's dismantling of homeless encampments won't be heard until the new year, well after winter weather has settled in.
"We are disappointed that the injunction hearing was scheduled for mid-January and another holiday season will pass while the city continues to regularly displace unsheltered people," said Sam Mason, president of the Coalition for Justice and Human Rights.
Article content
Article content
Last month, the coalition took legal action against the city, arguing ongoing evictions of people in encampments is harmful.
Mason said last year's displacements may have contributed to asurge in amputations due to frostbite.
"We are not asking for financial compensation but for the court to stop displacing encampments."
Mason said the coalition requested court dates that were available between late November and mid-December, but the city requested the application be heard in January so it could have more time to prepare its defence.
The hearing is scheduled for Jan. 11.
Edmonton police spokesman Scott Pattison said more than 14,000 complaints against encampments have been made to the city so far in 2023. As a result, 4,500 camps have been investigated and responded to.
Anyone can call 311 to complain about homelessness on public lands within city limits.
The city, local homeless outreach organizations and police have formed an encampment response team to deal with complaints. It handles "low-risk" encampments by co-ordinating closure and cleanup, with a goal to support safety and the well-being of occupants while trying to find them housing.
Article content
Article content
Police and peace officers are responsible for "high-risk" encampments that are deemed to need a quicker takedown.
Homeward Trust Edmonton, an organization working to end homelessness, says about 3,080 people were experiencing homelessness in the provincial capital as of early November — 521 more than the same time last year.
Chris Wiebe, a lawyer representing the coalition, said its legal action isn't meant to "pit the constitutional rights of unhoused Edmontonians against the safety of housed Edmontonians."
"Instead, it challenges the constitutionality of a policy that makes no one safer and puts the lives, limbs and essential personal property of unhoused Edmontonians at unnecessary risk."
The coalition has filed several affidavits from unhoused witnesses and expert witnesses.
One is from Joshua Bell, 41, who said he has been displaced from at least eight encampments since he became homeless two years ago. He currently lives in a tent behind a downtown homeless shelter near police headquarters.
"Get us a spot in the city where we are allowed to be there," Bell said.
Article content
Edmonton police Chief Dale McFee told a police commission meeting Thursday that encampments shouldn't be tolerated.
"How many fires do we actually have to see here?" he is quoted as saying in local media reports.
Pattison said that with weather conditions changing and with winter near, emergency responders, including police, are again tending to encampment fires.
A 54-year-old man and a woman believed to be in her 20s died in encampment fires during the first weekend of November.
"The encampment situation in Edmonton is significant," Pattison said. "While there are currently shelter spaces available, there are some people living in these encampments that have refused to move into shelter spaces for one reason or another."
Kora-lea Vidal, a TikTok user with 55,000 followers who has been interviewing homeless people around Edmonton since 2020, said she doesn't think the city is prepared for the winter.
Vidal, who has experienced homelessness in the past, said displacing encampments is ridiculous because occupants have nowhere else to go.
"So what they do, they set up an encampment somewhere else in the city, and wait it out until the next time the city comes along and tells them to move."
Article content
Vidal said throwing out homeless people's belongings causes more hardship. She also said that during winter months, "people are getting frostbite left, right and centre."
Vidal said the injunction application needs to be heard soon, because temperatures are about to drop.
Having slept in a tent herself, Vidal recommends the city have a designated area for encampments, with social supports in place.
The City of Edmonton said in an email it believes its approach "is compassionate and balances both the safety of the unhoused and the community at large."
A spokesperson said the city collaborated with other government and community organizations to develop a strategy for the winter, to protect the well-being of the homeless in the city.
"This includes a significant increase in emergency shelter spaces, day support services and extreme weather response protocols."
The spokesperson had no further comment due to the ongoing litigation.
"We will defend the city's current approach in court in January."
Mason said recent shelter data shows there is not enough space and many people feel encampments are a safer option.
He's also concerned that available space doesn't accommodate families, pets or items like bikes or shopping carts.
"Instead of doubling down on a failed strategy, we would rather see resources dedicated to supporting people staying in encampments to keep themselves and communities safe."
This report by The Canadian Press was first published Nov. 20, 2023.
Article content
Share this article in your social network
Comments
Postmedia is committed to maintaining a lively but civil forum for discussion and encourage all readers to share their views on our articles. Comments may take up to an hour for moderation before appearing on the site. We ask you to keep your comments relevant and respectful. We have enabled email notifications—you will now receive an email if you receive a reply to your comment, there is an update to a comment thread you follow or if a user you follow comments. Visit our Community Guidelines for more information and details on how to adjust your email settings.