Todd Haynes first received the script for his latest movie, "May December," from Natalie Portman during the early days of the COVID-19 pandemic in 2020. With Hollywood and other industries shuttered, the director found himself drawn to the "pleasurable uncertainty" that the film's two female protagonists relayed.
"There was humor, and there was also darkness, and the way those things interwove was so masterfully done. Just when you thought you knew what you were thinking and feeling, the ground would shift," Haynes told HuffPost. "Natalie and I started to talk about it, and we found so many commonalities about what attracted us to the material, from expectations about who these characters are to the judgments and moral groundings around these women."
"May December," which opened in theaters last week ahead of a Dec. 1 release on Netflix, is a fictionalized take on a real-life case that ignited a tabloid frenzy in the 1990s. The film follows Elizabeth Berry (played by Portman), a television actor who is hoping to portray Gracie Atherton-Yoo (Julianne Moore) in a biopic.
Gracie, as it turns out, is a former pet shop owner living in relative seclusion with her much younger husband, Joe Yoo (Charles Melton), and their children after her release from prison. The couple met when Gracie was 36 and Joe was a 13-year-old seventh grader. (Read HuffPost's review of the film here.)
Screenwriter Samy Burch was clearly inspired by the case of Seattle area teacher Mary Kay Letourneau, who in 1997 pleaded guilty to the second-degree rape of Vili Fualaau, a former student in her sixth grade class. In interviews, Burch has said that she didn't set out to dramatize Letourneau's story as much as comment more broadly on how the tabloid culture of the past helped shape the true crime-obsessed audiences of the present.
Haynes also makes an effort to distance "May December" from Letourneau, who died in 2020. "The stroke of genius in the script is how she separates the story from the tabloid event of Gracie meeting Joe, which happened 20-some years in the past," he said, referring to Burch. "It's really about this outsider coming into a well-fortified community, a neighborhood, a family that's built up so many barriers to survive that kind of an event."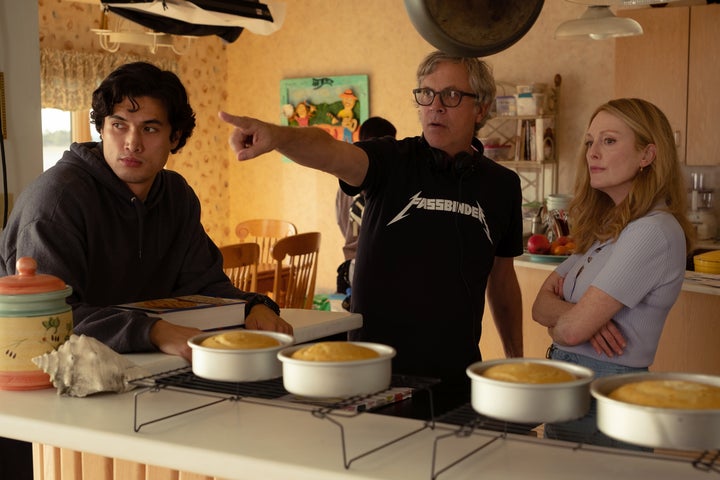 The movie also gave Haynes the opportunity to reunite with Moore, a longtime collaborator. The pair have previously worked together on four films — "Safe," "I'm Not There," "Wonderstruck" and, most notably, "Far From Heaven."
"Julianne is about as extraordinary an actor as I've ever known on film," Haynes said. "I mean that as a lover of film, not just somebody who's worked with her so intimately on projects."
He shared similar sentiments ahead of a "May December" screening at NewFest, New York's premier LGBTQ+ film festival, in October. "There's a transparency, and there's something that you cannot penetrate in her as an actor, and it completely wakes you up as a viewer," he said at the time. "And that's what I've tried in do in the films I've made as well."
Reviews of "May December" have already named Moore and Portman as front-runners for next year's Academy Awards. Best known for his portrayal of Reggie Mantle on "Riverdale," Melton delivers a breakout performance that could land him on the Oscars shortlist, too.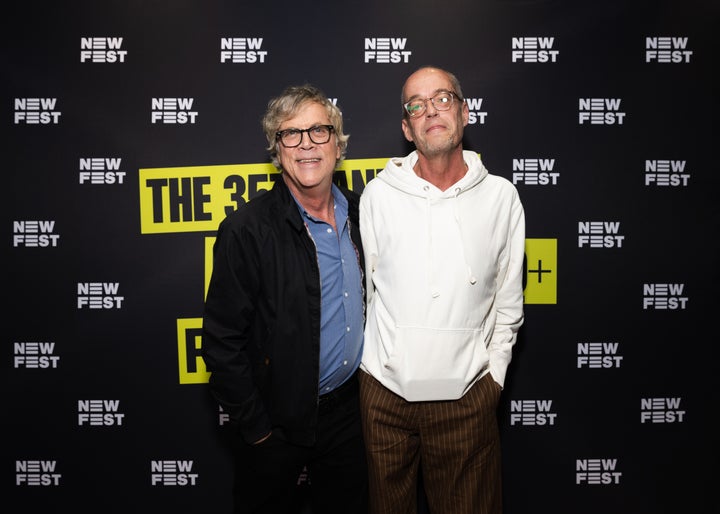 Haynes, who is gay, was honored with NewFest's Queer Visionary Award at the October festival. A pioneering talent in the "New Queer Cinema" movement of the late 1980s and early '90s, the director has never been defined by a single genre.
Though none of the principal characters in "May December" identifies as LGBTQ+, the film is imbued with a fair amount of camp humor that aligns with a queer aesthetic. And Haynes, who has always been interested in exploring "outsiders and criminality and deviancy and transgression" in his work, sees it as a natural fit within his cinematic oeuvre.
"What was distinctive about New Queer Cinema was that it wasn't trying to make happy, domesticated characters that you wanted to bring into your living room," Haynes recalled. "It wanted the queerness of characters to be raising questions about the norms of society. It felt like we were going somewhere and moving somewhere, and I don't always feel that today, even though we're faced with about as fierce a culture of antagonism from the far right as we've ever been."
Support HuffPost
The Stakes Have Never Been Higher