In week 46 of this year (November 13-19), China's EV market rapidly grew. BYD sold 52,900 units, up 8% from the previous week, followed by Tesla with 16,300 sold units, up 28%. Changan sold 7,000 electric vehicles under its main brand and 3,500 EVs under the Deepal brand, bringing the total number of registrations to 10,500.
– Advertisement –
The data were published by Li Auto, and they represent weekly sales. The background data are weekly insurance registrations. The numbers are rounded and present new energy vehicles (NEV), the Chinese term for BEVs, PHEVs, and EREVs (range extenders). To be completely precise, it also includes hydrogen vehicles (FCEVs), but their sales are almost non-existent in China.
As usual, BYD got the first sport, registering 52,200 vehicles in week 46, growing 7.96%. BYD sells BEV and PHEV, but insurance registration doesn't show the ratio. It is usually 50:50, with the trend leaning towards BEVs in previous months. It was about 53% of BEV sales in September and growing.
– Advertisement –
BYD unveils a fresh EV almost every month and will not slow down in 2024. Last week, a new SUV coupe, Sea Lion 07, debuted at the Guangzhou Auto Show, and BYD announced it will be followed by more SUVs next year – namely Sea Lion 05 and 06. On December 15, another BYD SUV – Song L – will be launched. The all-electric Model Y competitor already gathered over 11,000 preorders since it was unveiled.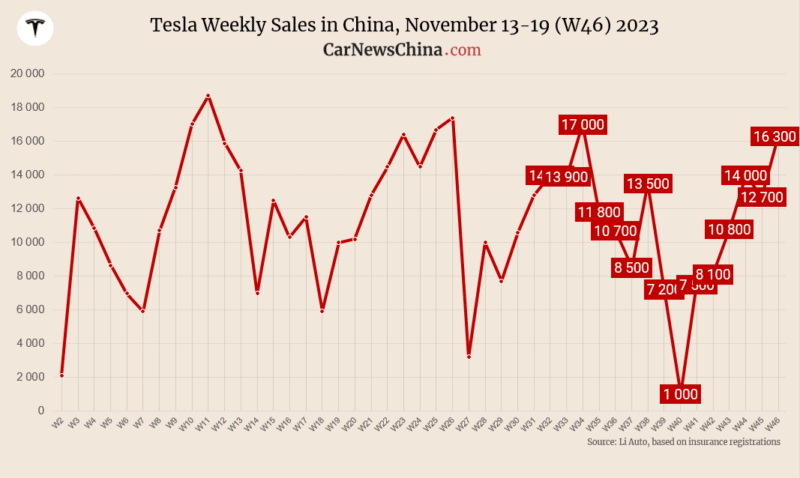 Tesla sold 16,300 EVs in China, up 28.35% from the previous week. Tesla is showing confidence in the Middle Kingdom, slightly increasing prices for the last two weeks. Between November 1 – 19, Tesla registered 39,300 vehicles in China.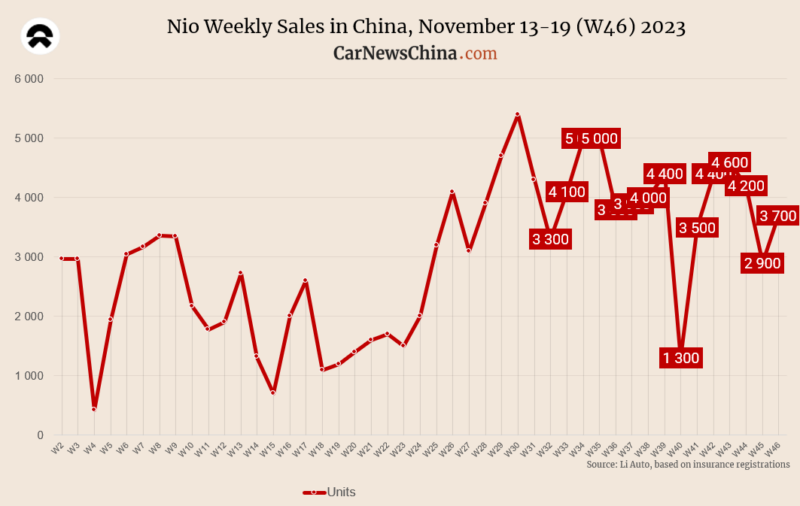 Nio registered 3,700 EVs, up 27.59% from last week, when it sold 2,900 cars. Most of their sales are driven by ES6 UV and ET5 mid-size sedans. The company recently partnered with Changan on their battery swap network and plans to launch an ultra-luxury Mercedes-Maybach-like EV in December during Nio Day.
– Advertisement –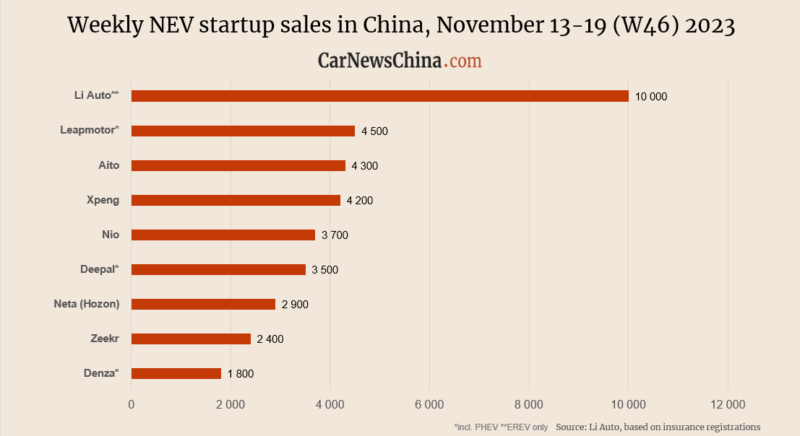 Li Auto remained flat from the previous week and sold the same 10,000 units: 3,000 L9 large SUVs and 3000 L8 and L7 SUVs each. Between November 1 – 19, it sold 25,400 cars in China.
Li Auto sells only range-extended electric vehicles (EREVs), which are EVs with ICE as a power generator for the battery, not connected to wheels. In December, Li Auto will launch its first all-electric car, Li Mega. It will be a massive MPV priced under 600,000 yuan (84,500 USD) with a futuristic design.
The following three brands are worth paying close attention to. Leapmotor, the EV start that attracted the investment from Stellantis, which will use their platform for their EV lineup, sold 4,500 cars, up 12.5%. Thanks to its platform, Leapmotor offers some of its vehicles in both BEV and EREV versions, for example, C10 or C11 SUVs.
Aito, formerly Huawei Aito, is a Huawei-operated brand that recently got traction in China. It sold 4,300 EVs last week, up 10%. Seres manufactures it and features a lot of Huawei tech inside. It can't be called Huawei anymore because Huawei's CEO often highlighted that they will not manufacture a car as they want to remain a Bosch-like automotive supplier and won't compete with its customers. But Aito is a Huawei car.
Aito M7 SUV recently received 80,000 orders in China.
Xpeng sod 4,200 EVs, up 13.51% from the previous week when it sold 3,700 units. Like Leapmotor, Xpeng is popular among consumers in China as it attracted investment from the global legacy maker. In July, Volkswagen purchased 5% of the Guangzhou-based company and announced it would use its Edward E/E platform for some of its China-made EVs. For customer in China, this is a crucial step, as it shows Xpeng is likely here to stay, and they won't lose their vehicle warranty when bankruptcies come. There are currently over 100 EV makers producing the actual car in China.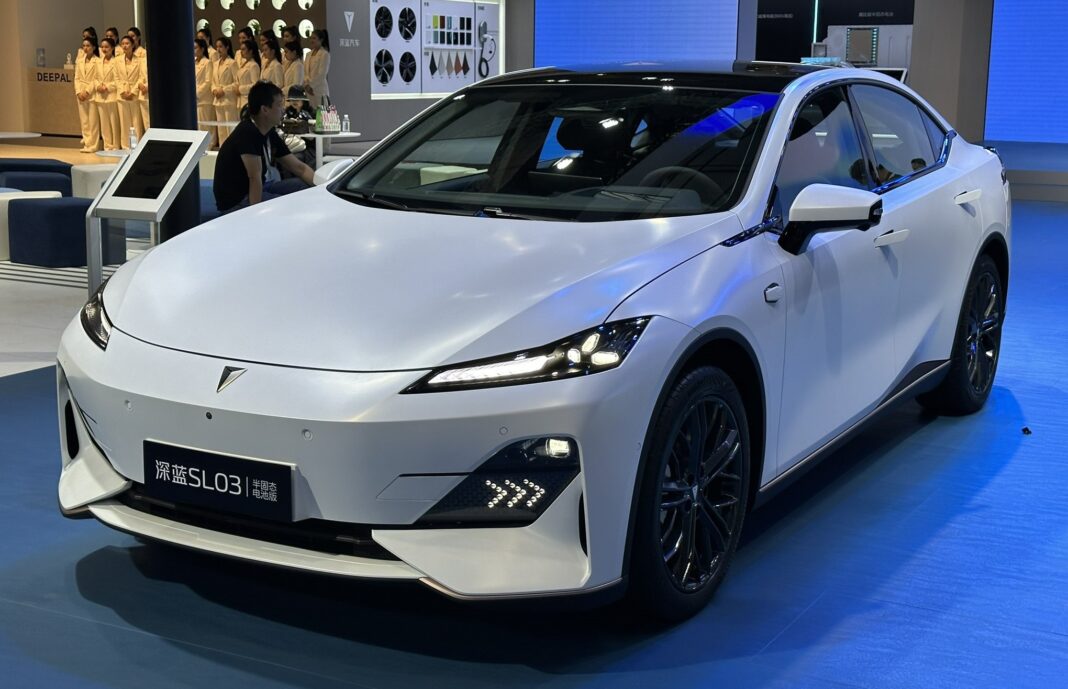 Deepal sold 3,500 vehicles, up 9.38% from last week. Deepal is an EV brand under state-owned Changan, selling the SL03 sedan, competing with Model 3 and S7 SUV, taking on Model Y. Interestingly, SL03 comes as BEV, PHEV, and FCEV (hydrogen). Changan recently announced it partners with Nio on its Power Swap Station (PSS) network.